Kilkenny woman Donna Mooney is continuing to espouse the phrase "live, laugh, love" despite reports that claim she is in fact a dour, humourless gobshite.
Mooney picked up the phrase earlier in the year when the expression gained popularity, being printed on various stationary items and as well as other products such as t-shirts, bags and mugs. Mooney duly hopped on the pseudo-philosophical bandwagon, regularly posting the trite phrase on all of her social media accounts.
Her Facebook cover photo is currently a sepia image of a typewriter with the expression, reaffirming her vague sense of spirituality: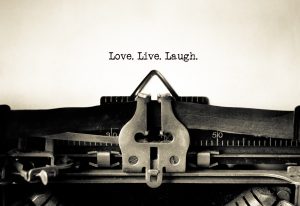 On the off chance that users didn't register the cover photo Mooney also dedicated a full Facebook post to the bon mot: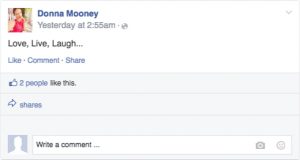 At the time of writing the status had two likes, one from Mooney's mother and the other from Mooney herself. Mooney also utilized Twitter, making sure everyone knows exactly how Zen she is:
Advertisement

The 28-year-old secretary has also been known to switch the words in the expression from Live, Laugh, Love to Love, Live, Laugh and even Laugh, Love, Live just to make things interesting.
Despite her constant posting of the adage Mooney shows no signs of actually heeding the advice of the message, with several neighbours of Mooney's attesting to her sour mood, nonexistent sense of humour and general unfriendliness. Carl Twomey, who lives down the road from Mooney described his dealings with her:
Oh she's a proper eejit, I can't stand her. Any time you'd meet her on the road or in the shops she wouldn't let on to know ya. I wouldn't mind only I let her use my toilet when her plumbing went. She didn't even say thanks.
Erstwhile friend Stephanie Porter also had strong words for her former bestie:
Don't get me started on that gobshite, she's a right pain in the tit. We used to hang out all the time but honestly she was shite craic. Them statuses she's always posting, I do be laughing me head off at them. She doesn't 'live' at all unless your idea of 'living' is eating ice cream and watching Netflix. And the only thing she 'loves' is the sound of her own voice.
Mooney was unavailable to comment at the time of writing, although in the past few hours she has tweeted "YOLO".