Met Éireann have issued a yellow weather warning for the whole of Ireland that will last for the week ahead.
It's edging very so close to that time of year again, where we'll all be wrapped up head to toe in every kind of layering we can find. I advise going out to stock up on weather-proof gloves, hats, scarfs, thermals, goggles, and ski gear as soon as possible. I can feel it in the air.
It's been almost a year since we were hit by the notorious Beast from the East, and without a doubt this year will be the same. (Praying for a week off work)
Don't worry too much yet though, Met Éireann have said that the worst it will get this week will be a chance of snow on Thursday. Every other day will be expected to be up to minus three degrees, with sleet and rough winds.
This warning comes after a tough weekend for many, where 10,000 homes and businesses were left with no electricity as a result of strong winds and heavy rain across the country.
This morning, much of Leinster and Ulster will be dry with frost, ice and fog patches, these gradually clearing later. Cloudier to the west and south with patchy rain. Showers will spread from the west this afternoon. Cold with highest temperatures of 4 to 8 degrees. pic.twitter.com/voWG5SpDjD

— Met Éireann (@MetEireann) January 28, 2019
Advertisement
Met Éireann made a statement saying to expect a 'very cold' week, along with 'wintery showers' with 'accumulations of snow' expected in some areas.
"Very cold this week with scattered wintry showers, frequent across the southwest, west and north. Some accumulations of snow are expected. There will be widespread frost at night with icy stretches on untreated surfaces."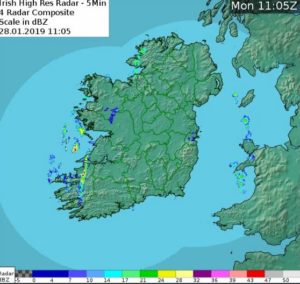 The warning will come into effect at 6 am on Tuesday morning and is expected to last until Saturday, 6 pm.
The warning will be reviewed and updated by tomorrow morning at 10 am.
Also Read: