Trinity College is one of the most well-known colleges in the world, but that's not why it's the best college in Ireland. Oh no, it's so much more.
The Dublin university is not only prestigious but also hilarious and today we've got 14 reasons why it rules above all other colleges. Disagree? Well, put this in your pipe and smoke it:
1. The long room looks like it's straight from Harry Potter:
2. An Overheard at Trinity Twitter exists and it's gas:
*bohemian Rapsody playing* oh my god... wow that's a great song! #TrinQuotes #basicbitches

— Overheard at Trinity (@TrinQuotes) March 13, 2016
Man, I'm so bad at studying; I need a dominatrix to help me study. #TrinQuote

— Overheard at Trinity (@TrinQuotes) February 4, 2016
Advertisement
I wish we lived in a place where frats were actually big and important. #TrinQuotes

— Overheard at Trinity (@TrinQuotes) February 3, 2016
3. The Trinity College GAA has some great tweets during GAA games:
I kid you not, we're 15 points up here. #Yop

— Trinity College GAA (@TCDGAA) February 18, 2015
Advertisement
4. Students know the rules of the library:
5. Trinity.Ball.
6. The Pav steps in summer are just grand:
7. They can take the piss out of themselves: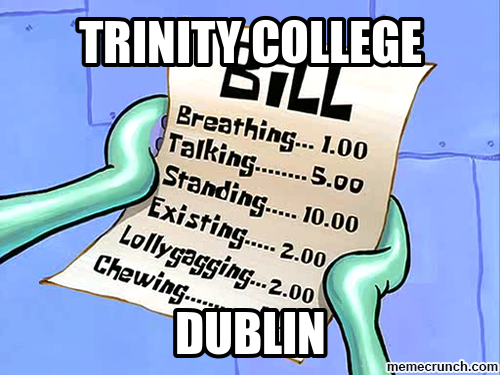 Advertisement
8. Because look how epic it issss.....
https://www.youtube.com/watch?v=J8evbCLVepg
9. When the Trinity cat went missing, everyone banded together to find it:

10. Trinity students are badass supporters of human rights:
After long day of #Admissions committee, saw this on campus. Thanks @trinitycollege #students 4 reminding me why work in #HigherEd matters. pic.twitter.com/bK8RWsAFt1

— Angel B. Pérez (@AngelBPerez) December 8, 2016
Advertisement
11. Oh, Trinny. 
Student in Trinity College - "This time in four years we're going to be the most amazing Illuminati."

— Overheard in Dublin (@OverheardDublin) November 25, 2015
12. How many famous people graduated from your college?
Trinity's had Oscar Wilde, Niall Horan, Courtney Love, Michael O'Leary, Paddy Cosgrave, Aaron Heffernan, Jack Gleeson, Ruth Negga....
Seriously though, if you have any reasons why your college is better, we'd love to hear from you! Email [email protected]