Not even two weeks after Christmas, Derry Girls arrived on our screens, gift-wrapped in nostalgia and comedy gold.
Set in "a place called Derry or Londonderry, depending on your pursuasion" under the backdrop of the Troubles, the show instantly took audiences by storm, so much so that it was commissioned for a second series after just one episode.
If you haven't seen it yet (seriously u okay?), the six-part comedy, written and created by Lisa McGee, follows a gang of friends as they try and navigate through their teenage years, a perilous time, but not because of the bomb scares and territorial conflict.
Sure aren't there far more pressing worries? Like school, love, trying to fit in while standing out ("Well I'm not being an individual on my own") - all played out to the tune of The Cranberries and The Coors which makes for delicious teenage angst.
Honorary Derry Girl and the 'Wee English fella' James, gets an awful time from Derry Girls, Erin, Claire, Orla and Michelle. But we still laugh...hard!
Speaking to College Times, 25-year old Dylan Llewellyn who plays James, reveals he felt the show would do well because of the cast, crew and how "amazing Lisa's writing is", although he didn't anticipate it would be so well-received.
"It's so amazing and surreal.
"As soon as I read the script for my audition, I was laughing loads and wanted the part so badly. Compared to other scripts I've read, this really stood out."
You wot m8! #derrygirls #fatherpeter #fatherjames pic.twitter.com/PuwSUViedK

— Dylan Llewellyn (@Djllewellyn) January 20, 2018
We had to ask - has he gotten to grips with the Derry slang? "Yeah I know what the craic is about the Derry slang!"
And his favourite saying?
"Catch yourself on ya wee dote!!!"
The actor says he resembles his on-screen ego in the sense that "we are both kinda awkward" but that's pretty much where the similarities end.
"I think James is a bit too sheltered and innocent. Also I think James takes it [the stick from the girls] a bit too much whereas I would give it back out to people who were picking on me," he says.
"I kinda wish I could have a chat with the character and say 'don't take that man stick up for yourself'."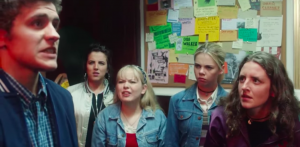 Off screen, the dynamic between the gang couldn't be anymore different. Working among what was predominately an all-female cast was "completely new territory" for Dylan but he loved it and says the girls took him under their wing.
"We've got a WhatsApp group and are all very close."
Watching the episodes every Thursday is a "sort of ritual" for the gang and the actor says they're all going to have a sleepover and watch the fourth installment tonight.
We're back tonight at 10pm! Here's a little Dubsmash for ya. #DerryGirls #mrg pic.twitter.com/dmo6oH7PJy

— Dylan Llewellyn (@Djllewellyn) January 25, 2018
Judging by social media, the gang look like they have great craic in 'real-life,'and James said the atmosphere on set is much the same. Who is the biggest party animal though?!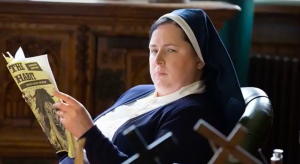 "Out of all the cast Siobhan [McSweeney, who plays the brilliant Sister Michael] was definitely the party animal! She's a legend. I remember I used to play all my old music in makeup and we would jam out, singing and dancing."
The actor reckons if James was to get with another character on the show, it'd be the woman of God herself. "Aside from Jesus, I think she needs another man in her life and that's James."
Stall the ball! Derry Girls is on Thursdays, Channel 4 at 10pm.
Advertisement