We love flying the flag for the Irish so here 7 people from our country who possess the magical power of not giving a fuck.
1 & 2 John and Edward Grimes, aka Jedward
The double act have made many a headline during the year and it's never because of their music. In October, the duo who shot to fame in 2009's X Factor, were pelted with plastic bottles at a student gig in England. Ever the pros, the twins continued to perform and finished the 50-minute show despite bottles being hurled at them. Fans praised Jedward for their professional attitude, the University SU apologised and everyone realised the duo's wings were unflappable.
Say what you like about Jedward but mega props to them for carrying on performing while dickheads were throwing bottles at them on stage.

— Shane Porter (@Elvargy) October 12, 2017
A few weeks after the incident, Jedward made front page news when they posed for photographs with their barrister outside a courthouse. Although the pair were brought to court over merchandise, they looked like they found it all hilarious and got photo happy with their barrister, who judging by his expression, was considering a career change. The Internet erupted in convulsions and the twins were once again cemented as national heroes who gave zero fucks.
Advertisement
That pic of Jedward and their barrister makes me love them even more. They are treasures

— Richie McCormåck (@RichieMcCormack) November 3, 2017
3. Conor McGregor
Continuing his reign of giving nul fucks, the Crumlin native went ten rounds with Floyd Mayweather in their much-publicised Las Vegas fight earlier this year. Spectators commented on McGregor's lack of experience ahead of the match, claiming he didn't have a hope against one of the all-time greats. Just in case anyone was to mistake the Irishman for someone who did care, he showed up at a press tour wearing a custom three-piece pinstripes suit, which read "Fuck You."
And while McGregor failed to finish his opponent's 49-fight unbeaten record, he started the fight strong landing 111 punches in all and walked away from it all with a cool $100m. Not bad for a former plumber's apprentice who survived on welfare cheques ay?
Giving a fuck is not in my repertoire, not in my arsenal. I'm incapable of giving a fuck. Check my vernacular,giving a fuck ain't in there!!

— Conor McGregor (@TheNotoriousMMA) May 20, 2013
Advertisement
4. The person who thought this sign was a good idea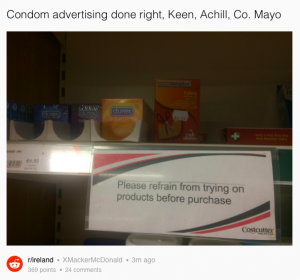 You'd presume customers would know not to try before they buy when browsing the condom section but you can never be too careful right? This shop in Mayo, who remain anonymous, thought they'd air on the side of caution and made a sign, warning everyone against sampling their Durex products.
The legend who thought this was necessary, clearly didn't care whether it was a source of amusement and thought much like the person using the product, they'd practice safety. For the purpose of this article, we're just going to say they're Irish.
5. The lad who took spoofing to new heights

Advertisement
Source of photo: me.me
6. The genius who thought up this headline
Meanwhile in Kildare...check out this hilarious headline from today's Leinster Leader ? pic.twitter.com/oaIqTiqF5j

— Shane Beatty (@ShaneBeattyKFM) January 17, 2017
Source: Shane Beatty/Twitter
7. And last but not least, this fella...

Source: Kerry's Eye