Heading off on a J1 is one of the most amazing trips a student can experience. It's a summer full of parties, making new friends and living in pure and utter squalor.
A lot of students come back from their J1 having lived off pasta in passata – it's pretty bleak. If you can no longer stomach bland meals we have a solution. We've come up with some delicious and most importantly cheap recipes that you can enjoy while you're away.
So throw away that pasta packet and remember what flavour tastes like again.
1. Turkey chilli baked potatoes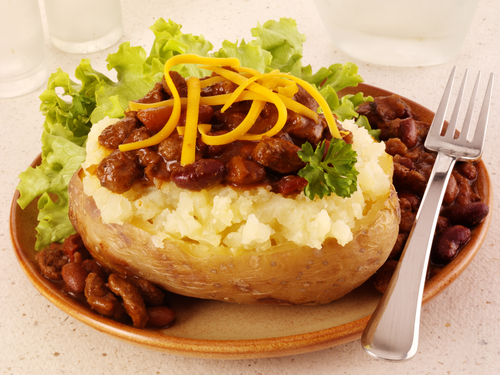 Serves 4
Ingredients:
Advertisement
4 large baking potatoes
1 tbsp olive oil
1 onion, chopped
1 garlic clove, crushed
300g turkey mince
1 tbsp smoked paprika
1 tbsp ground cumin
1 tbsp soft light brown sugar
350ml passata
cheddar cheese
4 spring onions, chopped, to serve
Method:
Heat oven to 200C/180C fan/gas 6. Use a fork to prick the potatoes. Rub with a little of the oil, and bake for 45 mins.
Heat some oil in a large frying pan over a medium heat. Add the onion, garlic and some salt and pepper, and cook for 5 mins until soft. Add the turkey mince and some salt and pepper again, increase the heat and break up the mince. When it's cooked through, add the sugar, spices and passata. Reduce to a simmer and cook for 10 mins.
Using a knife, make an 'x' shape in each potato, spoon in the chilli and sprinkle with some cheese and spring onion.
2. Refried bean quesadillas

Serves 4
Advertisement
Ingredients:
1 tbsp sunflower oil
1 onion, finely chopped
2 garlic cloves, finely chopped
1 tsp cumin
400g can pinto or kidney beans, rinsed and drained
2 tsp smoked paprika
8 flour tortillas
100g cheddar, grated
handful coriander leaves
200g tub fresh tomato salsa, plus extra to serve
sour cream
Method:
Heat the oil in a large frying pan and cook the onion and garlic for 2 mins. Add the cumin and cook for 1 min more. Throw in the beans, paprika and a tiny bit of water. Using a masher, break the beans down as they warm through to make a rough purée. Add some salt and pepper.
Spread the refried beans onto 4 tortillas and sprinkle over the cheese and coriander. Spoon the salsa, then top with the remaining tortillas to make 4 sandwiches. Wipe the frying pan with kitchen paper and return to the heat. Cook each quesadilla for 1-2 mins on each side until the tortillas are crisp and golden and the cheese is melting. Serve warm, cut into wedges, with extra salsa and sour cream for dipping.
3. Piri-piri chicken with spicy rice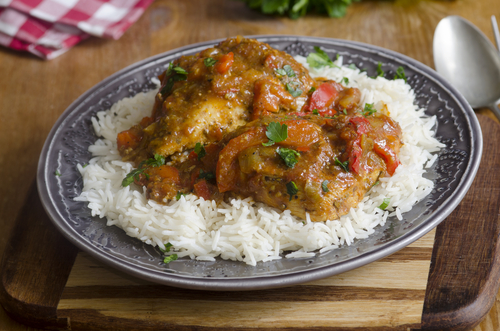 Advertisement
Serves 4
Ingredients:
about 4 skin-on chicken thighs and 4 drumsticks- buy a mixed pack
6 tbsp piri-piri Marinade (you can buy mild, medium or hot)
1 tbsp sunflower oil
2 peppers, any colour, deseeded and finely chopped
4 tbsp tomato purée
1 tbsp sweet smoked paprika
250g cooked rice
Method:
Heat oven to 200C/180C fan/gas 6. Pierce each piece of chicken diagonally 3 times, so the marinade flavours the meat. Pour over the sauce and leave in the fridge to marinate. Cook for 30 mins, then increase heat to 220C/200C fan/gas 7 and cook for about 15 mins more until the skin is crispy and golden.
When the chicken is almost ready, heat the oil in a frying pan. Cook the peppers for 5 mins. Tip in the purée and paprika, stir, then add the rice, breaking up with a wooden spoon so all the grains are coated well. Heat until piping hot. Serve together.
Add us on Snapchat – @collegetimesct