It's that somewhat bleak time of the year where a lot of us have some pretty extensive first-world problems to whine about.
College is starting back, our surprisingly quite pleasant summer is being replaced by more recognisable dodgy weather and landlords are cracking their knuckles in smug anticipation of all of the rent they can look forward to collecting throughout the year.
But fear not! Because McDonald's are here to help by giving you the opportunity to enjoy your next meal there and the one after that at a discounted price.
The offer centres on the Student Travel Card. If you already have a Student Travel Card, it entitles you to get an extra value meal for just €5 once you present it to staff!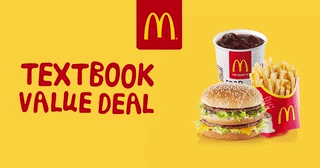 You will be entitled to Medium Fries and a medium drink along with one of the following: a Big Mac, Chicken McNuggets, McChicken Sandwich or Quarter Pounder with Cheese.
Advertisement
So if you're currently not in possession of a leap card, it's another reason to finally stop relying on awkwardly sifting through chunks of change whenever you want to hop on a bus or LUAS.
Remember, the fares offered on Student Travel Cards are significantly cheaper than paying by cash too so it provides a financial boost as well as lessening your hassle every morning and evening.
For example, if you were to use your leap card instead of cash for two weeks, you'd save €6.50. This would be enough to enjoy another McDonald's student meal with €1.50 change leftover.
You can get one at campuses up and down the country, especially during Freshers week as there will be Student Leap Card representatives on campus.
All you have to do is sign up for a Student Leap Card (which is a money-saver anyway) and the next time you visit McDonald's, you'll be able to get one of these selected meals at a discount rate.