Our lives are about to change as we know it. All McDonald's plastic straws are dead and gone, and our planet Earth is better for it. Some people, whether you dictate it as smart, or absolutely ludicrous, have made the conscious decision to gather some leftover, infamous,  McDonald's plastic straws, to flog them to desperate paper-straw users in a bid to cash in on £1,000.. for a straw?
Yes, it does sound ridiculous, but with today's world and us millennials, who knows what could happen? There has been absolute chaos since McDonald's announced they would be switching to paper straws (after revealing they use 1.8 million non-recyclable plastic straws in the UK alone), ridding of the plastic straw epidemic that causes such catastrophe to our environment.
A lot of people are not happy with the way this has gone down, and refuse to get used to the idea of paper straws. Yes, I can understand the annoyance that comes with some of them. They're flimsy, some fall apart after a few sups, and it's not what you're use to, so of course some out-rage is expected, but it's a price most people are willing to pay to save our dying planet.
But, alas, with every change comes angry people. There's even been a petition made, which has been signed by more than 30,000 people.
One 'genius' has one of the final golden tickets in their possession and has decided to sell it to whoever makes the biggest bet, starting from £1,000. Yep, you heard correctly. £1,000. For a straw.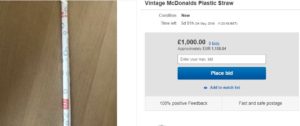 So far, there hasn't been any offers on the $1k straw, but you never know. The desperation of someone drinking a milkshake through a soggy straw just might make them crazy enough to purchase it.
Advertisement
Even, king of planet earth himself, Sir David Attenborough has hailed the McDonald's plastic straw as a 'national treasure'. Excuse me?
Even the product description on Ebay will give you a good insight to how people feel about this so called 'national treasure' being taken away from them.
"Brilliant uncirculated brand new McDonald's straw this is soon to become the stuff of legend, imagine your about 50 years older than you are now, telling your grandchildren how you got given plastic straws from McDonald's and they will look up to you like god!"
Who knows how far this will go. All I can advise, is for you to be considerate, and just think about what this sacrifice of a plastic straw will do for our future. Or, maybe just by yourself a metal, re-usable straw. Sorted!
Also Read: