This weekend, as the Royal Wedding unfolded, a Twitter storm brewed and the memes came flying in and it had nothing to do with what was actually happening at Windsor Castle.
One Irish viewer couldn't help but recall that Meghan Markle was once a promo gal and in Ireland's number one cheap drink destination, Dicey's Garden.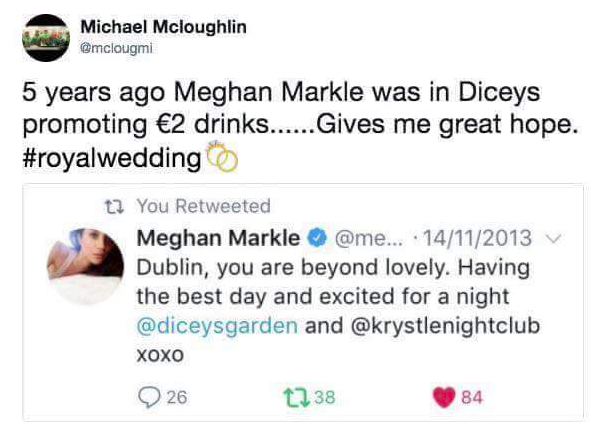 While the likes of Oprah and the Beckhams celebrated the Royal nuptials we couldn't help but celebrate how similar we are to Ms. Markle. Sixth in line to the Throne, Meghan was paid to promote her TV show Suits by visiting a number of bars and venues across the globe and Ireland's Diceys was on the list.
A staple of Harcourt Street, Dicey's is known for its cheap drink, throwback hits, its giant beer garden and being a popular haunt for country students.
Fans of the Duchess of Sussex were quick to shout 'fake news' when it came to the Dicey's storyline but it looks like the royal night out definitely happened. Although the Princess has deleted all her social media accounts replies to Meghan still exist which means we can verify its truth:
@meghanmarkle were in diceys waiting for you! X

— Darren O'Neill (@DONeill93) November 15, 2013
Advertisement
I cannot believe @meghanmarkle is in Diceys tonight and I'm in the arse hole of Scotland

— Denis McGoldrick (@Deensht) November 14, 2013
Watched S4 suits today! Absolutely love @meghanmarkle please come back to Ireland soon! #diceys

— Mark O' Toole (@Tooley09) June 12, 2014
Dicey's have shared a tweet inviting the Prince and Princess to come back for a night of Latin hits and it would be a night to end all nights.
Advertisement
She is always welcome to come back with Prince Harry to dance on Latin hits in @DiceysGarden and @krystleniteclub ? https://t.co/zD3wTQIBWK

— NightOutExpert (@nightoutexpert) May 19, 2018
We can't help but think she's the new peoples' princess. All we need now is a candid shot of Markle doing an apple sour shot with some lads from Tipp and our day would be well and truly made.
In minutes, hours, days or years to come,  if you feel like you can't do something, remember Meghan Markle promoting a drink in Dicey's and just know, you're not wasting your time in that smoking garden.