Last night more information on Dublin Pride week, including this year's Pride Guide and the route they will be taking in this year's parade.
The parade is going to be taking place on the 30th of June this year, with thousands of people following the theme of 'We Are Family'. The parade will start at Stephens Green South from 11am. There will be speeches and music on from 11am before the parade starts moving at 2pm sharp.
According to the Dublin Pride site, Dublin is one of the very few cities in the world where every member of the LGBTQ+ community, friends, family, allies and the general public can join together and march in the parade along with floats and groups.
1983 was the first year that the LGBT Pride Parade took place in Dublin, and it's just gotten bigger and bigger ever since. After the St. Patrick's day parade, the Pride Parade is the second biggest in Ireland.
Pride is always a great day out in Dublin, with tonnes of people out to celebrate each other no matter who they are or who they love. It's pretty much a big party in the middle of the streets in Dublin. This year's route is starting at St. Stephens south, going down Cuffe street, Kevin street, Patrick street, crossing Fr Matthew Bridge and heading towards Smithfield from there.
Advertisement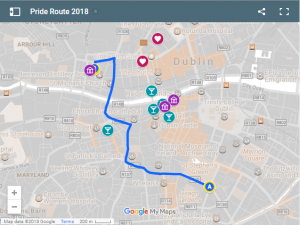 For more info go to http://dublinpride.ie/
Also Read:
An American In Ireland Reveals What They Think About Dublin Bus
Leaving Cert Students React To Geography
5 Places To Go On A Weekend Break With The Gals In Ireland