Halloween is lurking around the corner so it's high time you start thinking about what you want to do. For a fun, freaky and deadly experience, the spooktacular Morbid Manor at Tayto Park ticks all the bloodstained boxes. The only question is will you survive the night?
Morbid Manor itself
A haunting experience like no other, this ancient, abandoned manor will send shivers down your spine. Be warned, enter at your own peril because once you're inside, there may be no going back.
'People fear this place, they fear what they may find inside, for a history of violence runs through its blood-stained walls. Rumour has it that people have disappeared inside its walls. The stories of its past speak of pure evil, hidden rooms and murder.'
The Carnival
Nowhere to run, nowhere to hide, brace yourselves because you're at the point of no return when the eerie Carnival comes out to play. A guaranteed scare fest, terror beckons and calls from the corners of the Carnival. And you better run because they will HUNT YOU DOWN. We're not even messin'.
'Nobody is safe, for when the sun goes down, the freaks come out to play.'
Advertisement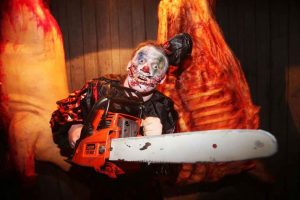 The Night Ride
What's that smell in the air? Oh yeah it's fear! Adrenaline junkies will really get a kick out of this one because the Night Ride at Morbid Manor has no less than SEVEN thrill-seeking rides. Upping the terror factor by a few notches, our advice is just to close your eyes and hold on tight. You can scream if the mood takes you.. unless you're frozen with fear and unable to utter a single sound. Than we can't help.
5D Horror Movie
A 5D movie is a different cinematic experience in itself but a 5D horror movie? It brings a whole new dimension to what will already be a terror fuelled night. You know the way when you watch a horror flick and feel so freaked out, you hide behind a pillow, or at the very least watch it through clasped fingers. There will be none of that because you will be in the midst of the menace.
Advertisement
The Entertainment
Morbid Manor night is jam packed with so much chillingly good stuff, it will give you an experience to remember. Run, hide, have the craic with your pals...either way you'll have the ultimate fright night.
Watch a teaser below:
It's €30pp for the event and they're offering a sweet deal of €20pp for entry on their opening weekend. If you'd like to find out more, click here.
Morbid Manor runs from 20th-30th October. its opening dates are: 20th, 21st, 22nd, 25th - 30th October: 7:30pm - 11pm.